Nirgudkar's Corporate Profile
Quiet. Soft spoken. Unassuming Dr Sudhir projects a very humble outward presence but behind that veneer is a life full of little known achievements. He may have been honoured with a doctorate, but his true title would be 'a fine human being'. His real calling is to serve the underprivileged and the downtrodden. His mission is to Recycle Goodness – the credo of Nirgudkar Foundation.

Philanthropy is a passion with Dr Sudhir. Under his stewardship runs the Nirgudkar Foundation, a registered public charitable trust which helps the needy and deserving. The Foundation makes a difference in the lives of thousands in the chosen areas of education, arts and music, healthcare, sports, spirituality and preservation of national heritage.
2007
Vidya Ratna Award by National Council for Senior Citizens of India by S.K. Choudhari former Sheriff of Mumbai.
2006
Udyog Ratan Award by Hon. Justice T. N. Vallinayagam in recognition of distinguished achievements and magnificent services in the field of construction.
2005
Title "Sir" by Indian Council of Management Executives for Contribution in Social & Cultural field.
2004
International Gold Star Award for outstanding work in spiritual upliftment from the Speaker of the Nepal Lok Sabha, Mr Taranath Ranabhat.
2004
Great Indian Achievement Award & Gold Medal from Smt Shiela Dixit, Chief Minister of Delhi, for exemplary work in rural healthcare.
2004
Lifetime Achievement Award & Gold Medal from Smt Shiela Dixit, Chief Minister of Delhi, for exemplary work in rural healthcare.
2003
Fellowship of the Royal Society of Arts, London, for valuable contribution to the arts in rural India and education and healthcare.
2001
Bharat Excellence Award from Shri Murasoli Maran, former Minister of Commerce & Industry, Government of India, for excellence in humanitarian work in healthcare.
2001
Pride of India Award from Shri Hukumdeo Narayan Yadav, former Minister of State for Agriculture, Government of India, for upliftment of mankind.
2001
Gem of India Award by Shri Ram Jethmalani, former Minister of Law, Justice & Company Affairs for services rendered towards humanity.
2001
Samaj Ratna Award by Indian Council of Management Executives, for contributions in the social and cultural arena.
200
Man of Achievement Award by International Publishing House for individual achievement of social service.
1999
Sarvashri Award by the Indian Council of Management Executives.
1998
Best Citizen Award for social service.
Realizing that true progress can happen only through education, Dr Sudhir focuses on providing books, medical help and hygiene facilities. Till now over 18,000 students including tribal children have taken benefit from the Trust. He helped to establish educational institutions and graduate and postgraduate centers of excellence.

Case in point: Dr Sudhir single-handedly endeavoured to establish Indian Education Society's Architecture College, Management College & Research Centre & Core Competence Development Centre. He used his good offices and his own financial support to turn it into an exemplary institution, while also enabling a highly conducive academic environment.
2005
Shikshan Sadhana Award for Charitable Educational Activities in Backward Area.
2004
Shikshan Tapaswi Award for Charitable Educational and Cultural Activities in Rural Area.
2002
Shikshan Yogi Award for Educational ,Cultural and Medical Activities in Rural Area.
2001
Bharat Gaurav Award by Shri Sunderlal Patwa, former Minister of Rural Development for creating awareness for education in rural areas.
2001
National Award for Excellence in Education by Shri Allam Veerbhadram, former Minister of Horticulture, Government of Andhra Pradesh.
1999
Order of Merit for contribution in management education.
1997
Lok Gaurav Award from Shri Gopinath Munde, former Deputy Chief Minister of Maharasthra, for contributions in the field of education.
1995
Shikshan Maharshi Award for charitable educational activities in rural areas.
1994
Sir JRD Tata Award by the Tata Group of Companies for tracing the history of Nirgudkar Family spanning over 1000 years.
As Managing Director of Nirgudkar Group of Companies, Dr Sudhir leads the Group's activities in construction, land development, diamond cutting, hotel and hospitality and project facilitation. He draws from his rich experience in conceiving and executing mega construction projects to guide friends and customers.

The Group's consulting division undertakes liaison assignments, covering projecting report preparation, government liaison and coordination of project funding agencies. Dr Sudhir puts his extensive experience in human resources management and construction into his own companies which are known for their international quality.

In agriculture, Nirgudkar Farms is engaged in unique experiments in organic and natural fertilizers. The effect of music and spiritual chanting on the agro yield and milk production has been tested and has achieved remarkable results. The produce includes grains, vegetables, fruits and flori-culture and is exported to western markets.
2005
Udyog Shree Award by Udyog Vikas Sanstha - Mumbai
2003
Knight of the Millennium Award for outstanding contribution in Horticulture by the Indian Council of Management Executives in November 2003.
2001
Vikas Ratan Award by Shri Anant Kumar, former Minister of Sports & Youth Affairs, Government of India, for excellence in agricultural exports.
2001
International Business Excellence Award by Shri Murli Manohar Joshi, former Minister of Human Resources Development, and Government of India for excellence in agricultural exports.
2001
Millennium Achiever Award by All India Achievers' Conference, New Delhi for achievements in various businesses.
2001
Master of Millennium Award for outstanding achievement in business.
2000
National Citizen Honours Award by National Citizens Guild, New Delhi for excellence in export of fresh vegetables.
1999
The Association for Overseas Technical Scholarship from the Government of Japan to encourage entrepreneurs. Sudhir represented India for this 4-week program.
1999
Indira Gandhi Sadbhavana Award by Dr Manmohan Singh, former Minister of Finance, Government of India, for outstanding individual business achievement.
1999
Rajiv Gandhi Shiromani Award by Smt Sonia Gandhi, Member of Parliament for distinguished services.
1998
National Growth Award by Shri Mukhtar Abbas Naqvi, former Minister of State for Information & Broadcasting, Government of India for outstanding achievement in agriculture and social sciences.
1998
Krishi Udyog Puraskar for excellence in agricultural production.
1997
Krishi Udyog Puraskar for excellence in agricultural production.
1997
Krishi Bhushan Award for excellence in agricultural exports.
1996
Krishi Bhushan Award for excellence in agricultural exports.


The entire Nirgudkar Family is passionate about presenting the rich heritage of Indian classical music to patrons in India and abroad. The Foundation has sponsored and encouraged many upcoming artists and veterans and presented them to especially rural audiences who have never been exposed to live concerts.
2003
Dr Vitthalrao Vikhe Patil Pratishthan Award for rejuvenating folk arts of the tribals and rural areas.
2003
Pt Deenanath Mangeshkar Award by Smt Usha Mangeshkar for promoting and revitalizing Indian classical music among rural audiences.
2001
Rashtriya Ekata Award by Shri P Bhoomana, former Minister of Culture, Government of Karnataka, for services rendered in arts and music.
2001
Ratan Jyoti Award by Shri P Chidambaram, Minister of Finance, Government of India, for outanding contribution to music.
2001
Bharat Jyoti Award for achievement in art.


Dr Nirgudkar also contributes actively to the social causes of many organizations in different capacities.
| | |
| --- | --- |
| M. Director | Nirgudkar Constructions Pvt. Ltd. |
| President | Nirgudkar Foundation |
| President | Ashtavinayak Yatra Suvidha Prakalp |
| Trustee | Bhimashankar Charitable Trust, Shrutisagar Ashram Pune |
| Ex.Convener | Lokseva Education and Medical Trust, |
| Ex. Governing Council member | Indian Education Society – Dadar, Mumbai |
| Ex. Chairman | I.E.S. College of Architecture – Bandra, Mumbai |
| Ex. Chairman | I.E.S. Management College – Bandra, Mumbai |
| Ex. Chairman | I.E.S. Core competence Development Centre - Bandra, Mumbai |
| Ex. Chairman & M. Trustee | Mandke Foundation |
| | |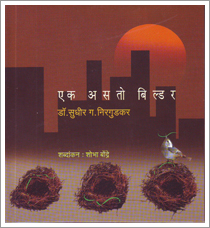 A little known facet of Dr Sudhir is that he can wield a pen effortlessly too. He has penned an unusual book in Marathi, Ek Asto Builder, which is less about building and more about life. A collection of snippets and anecdotes, it charts Dr Sudhir journey from its humble beginnings. The book is already in its 4th edition with no publicity whatsoever.

In spite of such a plethora of achievements, Dr Sudhir feels he has a long way to go. "As long as there's a single cry of help, a single stomach to fill and a single need to fulfill, our task isn't complete," says he. "My work has only just begun."