देवळा भोवती | आहे जिथं घाण |
अध्यात्माचे जाण | नुरे तिथे ||
जिथे स्वच्छतेचा | आहे रहिवास |
तिथे सहवास | ईश्वराचा ||
हावरेपणाची | धर्म घेता जागा |
वासनांचा त्रागा | उरे तिथे ||
आंधळ्या श्रद्धांचे | नाही येथे काम |
सेवा ही निष्काम | खरी भक्ती ||
निष्काम सेवेचा | लावुनिया दीप |
आलात समीप ईश्वराच्या ||
पावित्र्याला दिला | तुम्ही नवा अर्थ |
खरा परमार्थ | साधीयला ||
Meaning: [When there lies rubbish all around the temple, spiritual knowledge does not exist there, Where there is cleanliness, there you will find the company of God, When greed takes the place of religion, the outburst of lust remains there, There is no room for blind faith, the Service is selfless, it is the true devotion, Lighting the lamp of selfless service, you came closer to God, You gave whole new meaning to Holiness and have achieved the highest truth (position)]
These lines were penned by Maharashtra's famous poet Shree Mangesh Padgaonkar in appreciation of Dr Sudhir Nirgudkar and his family, for renovating the Historically Important Shree Sangameshwar Mahadev, Tulapur and beautifying its surroundings.
Shree Sangameshwar Mahadev, Tulapur is located 32kms northeast of Pune, in Maharashtra and is a popular heritage tourism centre. Dr Sudhir Nirgudkar renovated, this 1000 year old ancient temple and beautified the surrounding areas to make Shree Sangameshwar Mahadev, Tulapur, a destination for families to come, relax and feel spiritual in the Sanctum atmosphere. His efforts have indeed borne fruits of his hard work.
History of Tulapur
The Shree Sangameshwar Mahadev temple, Tulapur (Sangam- Confluence, Eeshwar – God, Mahadev – Lord Shiva) is located at the confluence of three rivers – Bhima, Indrayani and the clandestine Bhama at Tulapur and has a history of more than 1000 years.
The village of Tulapur, previously known as Nagargaon (Gaon - Village) is ancient, at least known so, possibly from the time of Sant Dnanyeshwar. Legend says that, Sant Dnyaneshwar stayed in this temple for three days before proceeding to take Samadhi at Alandi.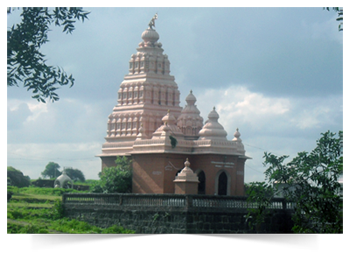 There was a Hemadpanthi (Of the Hemad Sect) temple at the confluence of the rivers during the Yadav Rule and it is still there. The name of the deity is Shree Sangameshwar Mahadev.
From over 300 years of Mughal invasions which began in 1294, Maharashtra was brutally destroyed.  Possibly in these years, the Shree Sangameshwar Mahadev temple also faced the wrath and fury of the invaders, who did not leave a single stone of the temples in this land. History has silent on the ill-fate of many of these temples, which were destroyed during these invasions. It had a profound effect on our religion, culture and people. From the period 1318 to 1631, Maharashtra faced numerous invasions and around sixty Sultans ruled here. Hindu Noblemen did not get a prominent position in the courts of the Adilshahi, Kutubshahi, Nijamshahi and Mughalshahi, nor was any Hindu king in the position to sustain his kingdom during these invasions.
However, in 1631, Murar Jagdev Pandit was appointed as the Prime Minister by the Bijapur Emperor. A shrewd man, Murar Jagdev Pandit was brave, accomplished and cultured.
During this time, Shahajiraje Bhosale  was serving the Nijamshahi. And, a year old, Chhatrapati Shivajiraje Bhosale, (born on 19th February 1630) was clenching his fists at Fort Shivneri as if he wanted to fight against the invaders and put an end to the numerous atrocities on this land.
Nagargaon becomes Tulapur
Murar Jagdev Pandit rose to prominence in the Adilshahi, acquired power, money, army and prestige. However, at the same time he started suffering from an incurable skin disease. The cure for this disease was impossible during those days. Since it was the beginning of the disease, he called in for esteemed doctors of royal courts. Someone told him about Sage Rudranath, of the Giri Gosavi Sect, who lived on the banks of the confluence of Bhima and Indrayani rivers.
He reached the village of Nagargaon, where people lived in fear of invasions. There stood an old and dilapidated temple of Shree Sangameshwar Mahadev.
Murar Jagdev Pandit pleaded the Sage Rudranath to cure him of his suffering. History is quiet on what medicines and mantras was given to Murar Jagdev Pandit. Six months later, Murar Jagdev once again arrived at the banks of the Bhima and Indrayani rivers, overjoyed as he was cured of his disease.  
He wanted to repay the sage for curing him.  On insistence, Sage Rudranath asked Murar Jagdev to rebuild the dilapidated temple of Shree Sangameshwar Mahadev.
The original temple of Shree Sangameshwar Mahadev was totally decrepit, crestfallen. Murar Jagdev was a wealthy minister. He also offered to donate in kind, goods equivalent to the weight of an elephant. On 23rd September 1633, the day of the solar eclipse, (Bhadrapad Vadya Amavasya is also known as Somwati Amavasya – Amavasya is No Moon Day) he decided to donate generously a ceremony called as Tula Daan (weighing in the scales and donating goods equivalent to the weight on the other side).
Legend says that, Murar Jagdev Pandit had brought along elephants, horses, cattle, gold, silver, grains and 24 different goods to be donated and called in sixteen Brahmins to perform the rituals. The real glitch was how to weigh the goods equivalent to the weight of an elephant? The elephant could not be put on the weighing scales. It was Raja Shahaji Bhosale (father of Chhatrapati Shivajiraje Bhosale) who came up with a brilliant idea of putting the elephant in a boat and marking the weight when the boat was immersed in water.
After the Tula Daan ceremony, Nagargaon came to be known as Tulapur.
During the Shivshahi Era (The period of 1630-1670 is known as the Shivshahi Era because of the Hindavi Swarajya movement of Chhatrapati Shivaji Maharaj), in the month of Kartik, the people would celebrate Deepotsav (Deep – Lights, Utsav- Festival).
Dharmaveer Chhatrapati Sambhajiraje Bhosale and his brave fight to death on the confluence of Bhima and Indrayani
Dharmaveer Chhatrapati Sambhaji Bhosale was a warrior in all respects and there is a popular saying in Marathi:
"जगावे तर शिवबा सारखे आणि मरावे तर शंभूराजा सारखे". (Live like Chhatrapati Shivaji (a life for the cause of Swarajya) and die like Chhatrapati Sambhaji (the true warrior).
The son of the Chhatrapati Shivajiraje Bhosale, Dharmaveer Chhatrapati Sambhajiraje Bhosale  was deceivingly caught on 01st February 1679 and cruelly killed by Aurangzeb. This brutal killing of Chhatrapati Sambhajiraje and Kavi Kalash (the royal poet) was witnessed by the Bhima and Indrayani rivers. (11th March 1679 – Falgun Vadya Amavasya).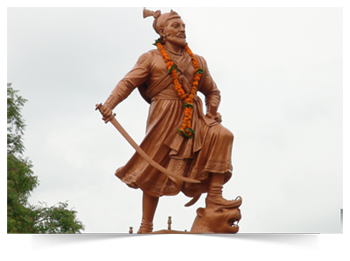 After the death of Dharmaveer Sambhajiraje, Maratha warriors Santaji, Bahirji and Maloji Ghorpade swarmed the encampment of Mughal Emperor Aurangzeb and killed whoever came their way. Emperor Aurangzeb was lucky enough to escape the wrath of the Maratha army. This is the history of Tulapur.
Later, in his attempt to create a rift between Bajirao Peshwa I and Mastani, Bajirao Peshwa's son Narayanrao brought Mastani to Tulapur to take away her attention from his father. But her unperturbed love for Bajirao Peshwa I was only to be witnessed by Nanasaheb Peshwa. History is quiet about the conversation that took place between Nanasaheb Peshwa and Mastani on the banks of Bhima and Indrayani.

In 1760, Nanasaheb Peshwa ordered to build a Ghat and a temple on the confluence of the rivers and install their family deity Lord Shiva (Banacha Shivling). The temple still exists in the beautiful ghat with ashlars steps.
Restoring the lost legacy! – Shree Sangameshwar Mahadev, Tulapur and Tulapur Mahotsav (Festival)
The restoration of Shree Sangameshwar Mahadev temple, Tulapur and its surroundings was done by Nirgudkar Foundation.
Late Shree Rajabhau Nirgudkar expressed his desire to Dr Sudhir Nirgudkar about restoring the lost legacy of this 1000 year old temple at Tulapur. This wish came true on the 07th November 1993. Unfortunately, Rajabhau left for the heavenly abode just a few months before the restoration was completed.
Dr Sudhir Nirgudkar not only provided financial aid, but also put in his sincere efforts and labour to restore the temple and its surrounding areas. But, it was not just the matter of money or the last wish of his father that was to be fulfilled. Deep inside, the roots of his ancestral history urged him to do this deed for the sake of spirituality and humanity.
He provided assistance to the villagers in and around Tulapur and Phulgaon for the development of these villages and also created opportunities for employment.
Today, when we see a redefined Tulapur, one can see Dr Nirgudkar's vision behind it. Tulapur  is now a popular tourist centre providing employment opportunities to the villagers. This development has been instrumental in raising the standard of living of the people in and around Tulapur. Nirgudkar Foundation also constructed steps along the ghats for tourists.
Dr Sudhir Nirgudkar also came up with one more innovative concept to sustain and encourage art and music, by conceptualizing the Tulapur Mahotsav in Tulapur. This initiative was to introduce Indian Arts, Music and Culture to the rural people, which would help them gain new insights. It had a profound effect on them and many showed keen interest to pursue the Indian arts.
Tulapur Mahotsav (Festival) was graced by stalwarts from the music industry like Pandit Bhimsen Joshi, Pandit Hariprasad Chaurasiya, etc. Local folk artists found the right stage to perform their art and were brought into the limelight, with their sincere performances at Tulapur Mahotsav.
Some renowned artists who performed at the Tulapur Mahotsav:
Babamaharaj Satarkar,Charudatt Afale, Prabhakar Panshikar, Jaymala Shiledar, Kirti Shiledar, writer Va. Pu. Kale, Mangesh Padgaonkar, Vasant Bapat, Prof. Shankar Vaidya, Dr. Aruna Dhere, Ramdas Padhye, Professor Shivajirao Bhosale, Gajananrao Watve, Pandit Prabhakar Karekar, Actress Smt. Alka Kubal, Dr Nishigandha Wad, Smt. Aishwarya Narkar.
Tulapur Mahotsav was held on the 07th of November every year till 2011.